To see the usually peaceful courtyard of the Martin Evangelical Church transformed into a bustling farmers market on a sunny Saturday morning in October was quite a surprise. After a particularly late and hazy night, rolling out of bed to help with the setting up of the Dozinky initially proved a bit of an ordeal, but an hour later I found myself pressing organic apples and grapes to make juice, arranging a display from locally grown gourds and squashes and gaining a fist hand insight into the local food and craft culture of Martin. To be perfectly honest, I hadn't really been sure what a Dozinky was before this experience, but now it was clear that it was a farmers market and harvest festival rolled into one, and a pretty impressive spectacle at that. The hangover that had been threatening to rear its sickly head was the least of my worries as we struggled to press apples quick enough to meet the demands of the juice-thirsty visitors and the sights, sounds and smells of the market stalls proved a continual distraction.
I had been asked to turn up at 10.30, before the market was due to swing into action. But by the time I arrived it was already thronging with local people and the expected attendance of 500 was soon looking a conservative estimate as around 2000 visitors descended upon the Dozinky between 10.00 and 18.00. The market teemed with stalls from all areas of the region and from all areas of local production. A few minutes walking around and you could sample some local medovina (a delicious honey based wine), pick up some traditional wooden crafts, eat a bowl of vegan goulash, and take a ride on a (local) donkey.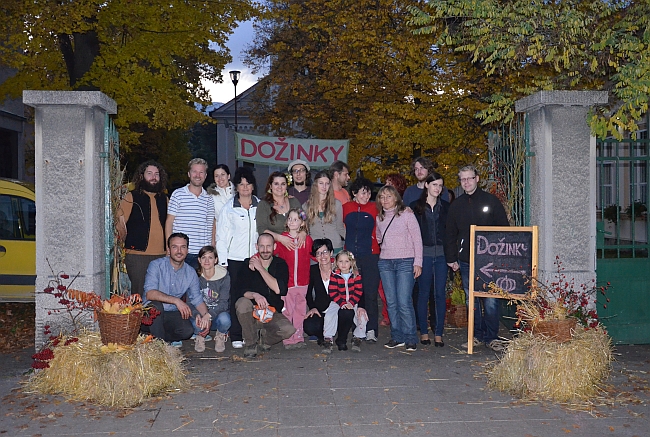 The organisation of the Dozinky is not the work of one individual, but a combined effort from many people, each coming from different background and with a varying perspective, but all united by a shared passion for achieving means of sustainable living and supporting a move away from globalisation to focus on local produce, local people and developing a strong and self sufficient regional economy. I spoke with two of the organisers, Juraj Marcek and Matej Borik and Juraj summed up the initiative behind the event; "It makes sense to hold an event which corresponds with our goal; we asked the local craftsmen, farmers and food producers to come together and to show people what they do". It is the hope that this festival reminds people of their connection to the city and region, exhibits the strength and diversity of regional productivity, increases understanding of localism and through this can help local people to make informed and culturally aware choices.
Juraj states that "globalisation is the reason we make a lot of choices that we do, and is why act in certain ways" but is optimistic that through raising awareness of these issues and recognising the fertility and productivity of the region, local people can be inspired and empowered in breaking the prevailing mind-set of global apathy, not through criticism or protest, but through exciting, proactive and creative events such as Dozinky, which demonstrate positive alternatives to existing habits; "we are hoping an event such as this may inspire people to shop locally, to embrace their region and to say "this is ours". The work of projects such as Dozinky will hopefully provide the spark for altering thought patterns, and from this change in mind-set can influence and breed a change in habits, actions and lifestyles. This event is a realisation of all that is good about the region and the power of the local community: it is a celebration of Martin, of the Turiec region and of local productivity and produce. Long may it continue to grow.
Autor: Jamie Leatherbarrow © Autorské práva sú vyhradené